My daughter, my angel,
20 years to you, my light,
I wish you an anniversary
Long and happy years.
Let the plans come true,
Let all dreams come true,
I want you to enjoy a joyful life.
Be healthy, inspired,
Just radiate positivity.
I'm always with you,
This, daughter, know for sure.
You're 20 years old today.
The whole world is open to you.
At the beginning, only you are on the way.
I wish you boldly to go
To great victories and heights,
Becoming more successful year after year.
Let your life be like a fairy tale
I wish you, my daughter!
Today 20
To my beloved daughter!
You are so beautiful,
Very beautiful!
And all the heights
are just ahead.
At the beginning only
Your way!
You will achieve everything,
What you dream about.
You can't go wrong –
You know that!
What a glorious holiday today!
Our daughter has an anniversary!
Let happiness be the main thing in life,
The soul sings like a nightingale!
You are young, tender, beautiful –
Every kid's dream!
We know you will be happy,
You'll find a cool groom!
Let the star light your way,
Will indicate the right path,
You, daughter, are the best in the world,
Hold your fate in your hands!
Daughter, 20 years old – fine,
There is so much ahead
Bright days of great happiness,
So go ahead boldly!
May luck meet you,
Let love come with her,
So that your 20th anniversary
It was remembered again and again!
You are celebrating your 20th anniversary,
Let these moments be beautiful,
Let life carry you like a boat,
May great happiness be waiting for you ahead.
Happy birthday, daughter, congratulations,
Love, good luck and good luck to you,
Let hope, faith and love,
They help you in life again and again.
20 years – the beginning of adult life.
Congratulations to you, our daughter.
A year older today you have become,
We will drive all sorrows away.
We wish you to be happy.
You know, you have to go through everything…
To make your dreams come true
And you were able to find a family.
20 years is a very bright date!
May you be lucky on this day,
And the dream that you once kept,
We'll do it, gifts don't count.
You grow and bloom, our daughter,
Don't be sad and don't cry ever.
You are beautiful, kind, we know for sure,
And, as before, you are dear to us!
You are twenty years old, my dear.
My daughter, my beloved.
I heartily congratulate you
At this hour, only you!
You bloom like a chrysanthemum,
Smile, rejoice always.
Let them bypass the problems,
And let the soul be happy.
My dear daughter,
Happy birthday to you!
Me and all your friends
They came to congratulate loving.
Let the whole world envy,
After all, there is nothing more beautiful than you.
You are my beautiful,
Be the happiest!
Let it accompany you
There is only success in life,
So that the warmth of your soul
We had enough for everyone.
My dear daughter,
Today I congratulate you.
You are young, beautiful, no doubt,
You are only 20 years old!
I wish you a bright life, like diamonds,
Let all your talents blossom,
Cheerful friends and beautiful love,
So that you will always be so happy!
Congratulations on the 20th anniversary of my daughter
My daughter, my sunshine!
The most delicate flower of my days,
Drink the cup of happiness to the bottom, drink it without a drop of tar.
Today you turn
Without three minutes 20 years,
Today for life is born
Quite a big man.
So let it be in your adult life
There will always be joy, comfort,
Blows of capricious fortune,
Let them pass by the side.
Bloom brighter than primroses in May,
Burn with a good heart for everyone,
And let him wait around the corner
You are undoubtedly a success.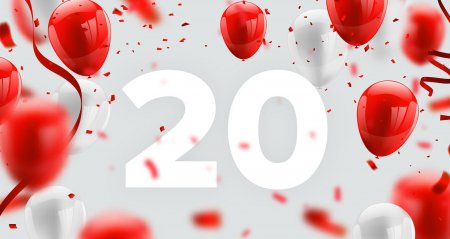 Beautiful age of 20 years,
I congratulate you on this date.
Daughter, you are not more expensive,
I embrace you with my heart.
I wish you life victories
And the path to success without tragedies.
Let there be light on this road
It comes from the joyful constellations.
Let the gentle veil of happiness
It will hide you from sadness.
And love, fragile crystal,
Will be stronger even than steel.
Happy 20th birthday to you,
Daughter, congratulations,
The first anniversary
You meet an adult.
All paths are open,
Dear, before you,
Smooth, wide –
Choose any one.
Choose the right path
Let fate help,
Let it be expensive
Happiness and kindness.
20 years to you today,
You dressed very fashionably,
So accept congratulations
On the anniversary birthday.
On this day we wish,
Not to know grief and sorrow,
Be good, for our joy,
Let life give only sweetness.
You are 20 years old today, daughter!
Don't be sad that the years are rushing fast –
After all, you took a ticket when you were young,
It's not going to end.