On this wonderful day, I can wish a man a life worthy of the proud flight of an eagle, who reaches his goal without looking back at small birds, and in any situation overcomes all obstacles. Happy Defender of the Fatherland Day!
I congratulate you on Defender of the Fatherland Day and from the bottom of my heart I want to wish you to remain calm and confident in any life situation, to do beautiful and kind deeds, to cherish and love your relatives, to take care of the future and successfully reach great heights.
On February 23, I congratulate not just a defender who is faithful to his oath, but also a very good person, a loyal friend! Accept my congratulations, because you deserve the highest praise for your service! I sincerely wish you happiness and good luck, good health and true love!
Dear men, congratulations on Defender of the Fatherland Day! We wish that you never have to fight for peace. So that only unity and tranquility will be in our country. Great well-being, material prosperity, realization in your favorite business, family warmth, friendly help in all endeavors. Happy holidays!
Let women shoot eyes in your direction, let them fight for your attention, using all the heavy artillery: beauty, intelligence and warmth of the soul. Well, let your armor be pierced by the best of the female representatives. And let the headquarters of your union be a two-story mansion. Happy men's holiday!
From February 23rd you, men! We wish you healthy organs and pumped muscles, virtual fights and real victories, loyal friends and long-legged girlfriends, cool cars and straight roads, warm countries and cold minds, easy tasks and brilliant ideas, cheerful mood, burning passion, constant luck and endless happiness.
Today I want to congratulate the strong half of humanity on February 23. Dear men, step boldly towards your goals, do not be afraid of obstacles, be happy and healthy. And a fragile, but wise and beautiful woman who will inspire and support you in difficult times will help you achieve everything. Try to protect not only the motherland, but also your ladies, be a help and a strong shoulder for them and be happy!
Dear Defender! I cordially congratulate you on your holiday! I wish you happiness and health. May luck become your guiding star! Be a Man with a capital letter, a real support for your loved ones! Never give up and go only forward!
On Defender of the Fatherland Day, all women carry a guard of honor, protecting the tranquility of their men, who in turn take care of everyone defending their country. Dear defenders, future defenders, on behalf of all women, I congratulate you on this solemn holiday.
I congratulate all real men on the Defenders of the Fatherland Day. And I wish that every man could give birth to a healthy son in love under a peaceful sky, build a cozy house in agreement, and plant a whole garden near him in joy. And so that you never have to take up arms, protecting your family and your home. I wish you peace, love and happiness.
Congratulations to men on February 23 in prose
Dear men! Today, on the Day of the Red Army, we want to congratulate you and wish you a lot of red: red words and red thoughts, red dawn and red day, red summer and red love, red joy and red laughter, red maiden and red limousine, red holidays and a lot of red wine on the table!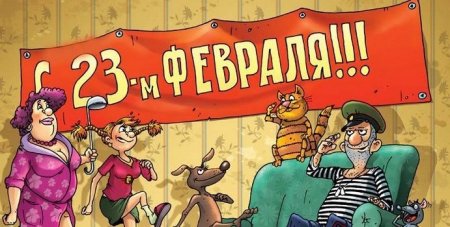 [attachment=38]
I heartily congratulate you on Defender of the Fatherland Day, on the holiday of strong strength and brave courage. I wish you strong nerves and steely health, real endurance and unfailing justice in life. Let the character allow you to show courage in any battle and gentleness towards your loved ones, let the light of courage fill your soul, and wisdom and love fill your heart.
Dear men, since February 23! We wish you courage in any decisions, always a positive attitude, new horizons, bright, creative ideas, good health, so necessary for real defenders, family well-being, happiness and a peaceful sky over your head
In the solemn hour, please accept my congratulations on Defender of the Fatherland Day! You give your loved ones, and with them the whole country, your loyalty, your willingness to guard the common peace and happiness every day, which means that you deserve ten times more! So let all your dreams come true, and life will be just a fairy tale!
Dear men, congratulations on February 23! We wish you to be brave, brave, believe in yourself and support your friends. May your health be strong, your hand firm and your heart warmed by the warmth of home. You are our defenders and support, reliable comrades and friends, beloved and necessary, take care of yourself! Happy holidays!
Congratulations on February 23 to everyone who cannot imagine their life without responsibility for the life and peace of others, who understands the meaning of the words "honor" and "duty", who puts public interests above personal ones. Happy holiday to you, defenders of the Fatherland, our defenders and guarantors of our peaceful life.
You are fighters of all kinds of fronts: visible and invisible, domestic, love and professional. It doesn't matter whether you were invited or you asked for it yourself, a unique situation or a banal one, the main thing is that you always remain winners and then fame is guaranteed to you, and to it – a good salary and the most charming girls in the world!
On Defender of the Fatherland Day, it is customary to congratulate not only the servicemen. Such a day allows us to congratulate friends, relatives and all those who keep our hearth, all those who do not leave us in trouble. Since February 23, all of you! We have come a long way together called life, and this already allows me to call you real protectors and devoted friends.
Dear men, happy February 23rd! We wish you health, a peaceful sky and remind you that you can perform feats in ordinary life. We automatically equate every trash can taken out, a hammered nail and a serviceable iron to a feat. Well, for coffee and breakfast in bed, we are ready to assign the title of hero!
On the 23rd day of February, the holiday of real men, we congratulate our defenders! It doesn't matter whether they serve or not, they are always, every moment ready to stand guard over our freedom and our lives! Let me on this day, in addition to congratulations, also wish you a peaceful and most prosperous life!
Congratulations on February 23, 2022 in prose
From 23 February, incomparable men! Remember that we perform many feats for you. Exhausting shopping, searching for the best cosmetics, running through beauty salons – everything to become the most charming. All femininity, tenderness and charm are for you, our defenders!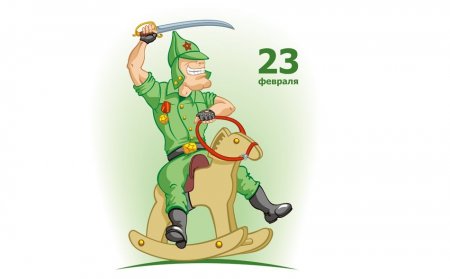 Our dear defenders, congratulations on the holiday of the brave and courageous, strong and reliable. Be confident in yourself, in your abilities and that we will always support you and provide a reliable rear. Be lucky, healthy, prosperous and happy. From February 23!
Congratulations to the strong half of humanity on a wonderful February holiday designed to honor real men! We wish you to be a reliable support to your family and friends, to enjoy life in all its manifestations, to demonstrate will, endurance and the desire to win in difficult situations. Be healthy, loved and successful!
Congratulations on Defender of the Fatherland Day. I wish to be such a man who will prove his truth with a firm word, who will defend his honor with a brave deed! May your health be strong and your heart be brave.
Congratulations on Defender of the Fatherland Day! I wish you to always move in the right direction, good luck to the great sources of grandiose success. And in order for any business to go "with a bang", I wish strength, endurance, patience, skill, courage, courage, foresight, prudence, talent and, most importantly, health. All the best to you, hero!
Winter is almost over, and the holiday is just beginning! Congratulations to everyone on the holiday of February 23! On this day, we wish all the defenders and defenders of our vast Motherland excellent physical health, spiritual balance, joy and love! We wish you a clear sky over your head and a good mood!
Congratulations on February 23! I wish you inexhaustible optimism, endless happiness, huge cash reserves, warmth, kind neighbors, understanding bosses, a jealous wife, obedient children, a cool car, a powerful computer, a beautiful house – yes, just everything that will give you joy!
Dear men! Happy February holiday to you. You are our protectors, you are our guardians, our intercessors in everything and everywhere. You are the strongest, the bravest, the kindest, and also the most beloved. Let you have only joyful days in your life, only hospitable tables, only full wallets, soft sofas, a successful bite and beautiful loving wives.