I'll raise a glass for a special day,
Everyone is celebrating it today.
Both bear and seal are celebrating,
They consider themselves males.
The male tribe is very important,
Time will stop without men.
There will be no one to play dominoes,
Move the enemy to the crown.
Hold on, take courage, catch the stream,
Do not descend to falsehood and flattery.
I will cheerfully drink to the men and pour again,
For you knights of valor, honor!
Only today, toasts of all women,
The man is charged for a year ahead.
There are at least a hundred such warm words,
A man will collect this day.
Wine shops will not be closed until morning,
People will not get tired of dancing until morning.
Trousers, shirts, socks, moccasins,
Tomorrow women will be looking around the house.
But although having fun is a pleasant thing,
Still, the main thing should not be forgotten.
There must be a spirit and a healthy body,
And so that they can stand up for the Motherland.
Congratulations on the 23rd!
Happy holidays to you guys!
We wish you big victories –
In battle, in life and in love!
Let the money drip,
So that they get steamed up to count!
You're great guys!
Congratulations! Keep it up!
For you, we are on diets,
Kefir is applied to the face,
We weep bitterly over the candy,
We rub an egg into the hair,
For you, beloved men,Stockings, skirts, makeup,
Elastic avalanche curls,
On heels mileage…
In response, we want one reward –
Man's strong shoulder
We are happy to congratulate all men,
We hug you warmly!
Congratulations to the beloved men
We have been since February 23,
And on this day we wish you,
Always be at the helm in life,
Solve all tasks brilliantly,
And in any situation
Don't miss your luck
And live in harmony with yourself!
I went and searched –
How do I congratulate you
Happy this great holiday – the twenty-third of February!
Here are some perfumes all around,
Creams, blades, socks…
My friends told me
Guess what you want…
What you want is clear to me,
But I wanted a surprise
Cook for the dear
On this day of the calendar.
Give you a reel
For fishing for bream?
So, in the summer on weekends
I will stay without you…
Boat, sleeping bag and tent…
Honey, I love you
And on your peasant holiday
Your gift is me!
I want you to always be given
Awards, honors, medals
I want to always stand
A glass filled with wine!
I want you to get up
And he never went down…
Your strong spirit!
For you men!
Cards, money, two barrels –
Here it is, a man's game,
A woman could not
I understand you, but I wish
On February 23rd
Hug your loved ones,
I wish to kiss
Only us – the unique ones!
A man is pride,
Honor and respect.
Man is an area
And rise and fall.
A man is courage,
Protection and joy.
Oh, how I wish
Such a reward!
I will congratulate the man
On his so important holiday!
A man, I know for sure, is a king, a buffoon, a hero, a prankster!
On February 23, we are over not to mention,
We want to congratulate the men,
So that everyone is strong and healthy.
To sleep sweetly and eat deliciously,
What he wanted, he had.
Fishing, sauna, football
Male, to please the floor.
Let life consist of victories,
Let a soldier stand at the post,
So that they are behind a man's back
We are like behind a stone wall.
Congratulations on February 23 to men with humor
Congratulations to all on Defender of the Fatherland Day!
Humanity depends only on men.
Nature has given you masculine strength,
So that you are engaged in procreation!
So that you bite into your goal with your teeth,
So that enemies are trampled with boots.
To protect children and women
And they didn't forget their mothers!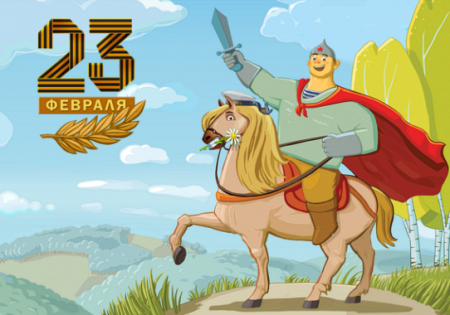 [attachment=39]
There is a beautiful day in February.
A great reason to congratulate again
Men of all the best on earth
And add a couple of wishes.
Let wives be the embodiment of goodness:
Do not saw, do not shout and do not scold,
Let them give a sea of affection and warmth,
Let them understand in any case.
Let the mothers-in-law all live far away.
Let the prosperity increase decently.
Let life be fun like a carousel,
Well, in general, let everything be fine.
Men's Day has come! Hurray!
Since the twenty-third of February!
Official day off –
Here is a non-banal gift
It is handed to you in the morning.
So it's time to celebrate!
For a gift! To your health!
Let's drink to the ladies! For… hmm… male!
A toast to the money! Toast… oplya:
The end of February…
Today from February 23
We will congratulate men with warm words.
Pampering us always and having fun,
In life, you walk next to us,
You always give us a shoulder.
We express our gratitude to all of you,
We wish you health for many years,
Love and prosperity!
Let the snowflakes outside the window,
The degree is decreasing,
Let's get together at the table,
The holiday is approaching –
the 23rd.
Valiant knights,
I want you to be lucky
In any position.
Strength in muscles and hearts
Has not disappeared without a trace,
Since the fortress is for a fighter –
Which is lovely for a lady.
Our dear, incomparable men,
On February day, in your celebration,
We sincerely wish you sincerely and decently
Only the most beautiful of everything!
Bright days, merry and happy,
Tender feelings and good health.
Children are small, funny, inquisitive,
And so that life is filled with love.
Let it be easy iron madam
The horse will slow down at a gallop,
But believe me, we really need
The one who, without noticing, will protect.
The lady will enter the burning door,
Only who with water to us a can
Will he carry it to this door?
Well, of course, the almighty "He"!
Without a defender, our way to "nowhere",
The morning dawn will not come,
May the defender always be ours
Happy, cheerful, loved for hundreds of years.
Men, you are our heroes,
Today we are for you – the mountain,
You are on this day of male courage
Hide your swords away.
Prepare your hands for gifts,
Let it be hot from our feelings, let the shoulder straps shine with stars,
Health, strength to you – wagons.
Wit and wisdom in addition,
So that you don't scare off your luck,
Let there be peace on the whole planet,
You, dear ones, with the 23rd!
This day was once a working day,
But he was so loved by all the people,
That he is now marked with a red date,
And has become a wonderful men's holiday.
We congratulate you on Defender's Day,
Keep your country, home, family,
We wish you health, strength, perseverance,
Do not retreat and be always in the ranks!
Congratulations, friends,
On February 23!
Let there be no ice in the shower,
Despite the cold.
Be you always healthy,
Let the germs be afraid of you.
Let them raise your salary,
Money to row with a shovel,
So that you can rest
At least five times a year.
Congratulations on February 23 with humor
I wish you the twenty-third,
That your dreams come true,
Happiness was to be without edge,
Money to flow like a river!
To all the girls in the neighborhood
They were in love with you,
So that you were a faithful friend,
And your friends are faithful to you.
So that health is normal,
Muscles grew in front of my eyes.
To always be in the best shape,
Standing firmly on your feet!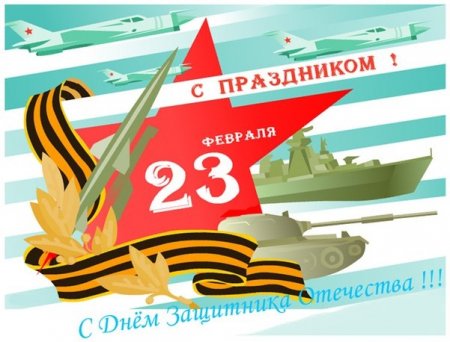 I wish to play with muscles,
Driving around in a fashionable wheelbarrow
Always with a full wallet
And be a brutal man.
Let there be no end from the ladies,
Let the crowd follow you,
So that you are reputed to be a macho and a male,
An exemplary husband and father.
Let the Earth circle more cheerfully
On the frosty holiday of February!
Immodest? What's the big deal here?
After all, life is one, live a buzz!
February day is on the threshold.
A man is waiting for congratulations.
Everyone wants to be in the end
A formidable ruler of the world.
Everyone wants a house and a cottage,
And a wife, children, an apartment.
We wish them good luck,
Half of all the ideas!
We wish everyone good health,
To rule our world.
Money will only help.
We sincerely want to congratulate you!
We will congratulate male colleagues today,
And congratulations, of course, are not accidental,
After all, the best holiday is February 23 –
According to tradition, we celebrate everything together!
We are not afraid of problems, difficulties,
Any of you are smart, talented and active,
We sincerely have to tell you on this day –
How good that there are men in the team!
We have a good reason for having fun –
Happy Defender's Day to you, dear man!
Be always strong in everything – in feelings and in your career,
So that you open any doors with a smile.
And don't look at the age – it's just a date,
After all, your soul is now rich in experience.
Celebrate every holiday loudly and with a flourish,
So that your life is sweet, like sugar.
Drown in the sea of feelings, in the ocean of passion,
Life is beautiful if we are in the power of love.
Let there be a lot of adventures in life,
You confidently walk a smooth road.
Today is a very difficult day,
He is a blow to the liver.
After all, we praise men today,
A loud fanfare is heard.
I wish to endure steadfastly,
Every very important toast,
Socks are waiting for you in abundance,
Shaving foam gain.
For all my friends,
On February 23
So much I want to wish,
So that they could not raise.
In order to live, they did not get tired,
Yes, they poured more.
They could play with a girl,
And dance a waltz with their mother-in-law.
To tame the monkey in a moment,
Really stir up the matter.
Less polishing of the sofa,
They could have assembled a faucet in the kitchen.
Be able to curl the enemy's fangs,
Happy holidays to you guys!
A lot of congratulations on the holiday,
Accept it from the bottom of your heart!
I want to wish you achievements,
Only dream of the best!
Every day is fun, easy,
Life was like a clean sweep,
And good luck is a tenacious claw,
To get used to luck!
And without new sensations
Less than a day has passed,
Congratulations, the strongest,
Happy Defender's Day to you!
Ah, be like Bond, irresistible,
Let the beauties look languidly after,
Live every day easily, beautifully,
And let the fairy tale last for many years.
Let your career growth not make you wait,
We wish you luck to be on \"you\",
And it became a reality that by all means
A luxury car from a dream.
Without a feat and the whole earth of salvation
Let there not be a single day,
The whole life of our female inspiration,
Men, from the twenty-third of February!
Today there are many reasons,
To congratulate our men,
We wish you, dear,
That the golden days have come,
That you always bathe in glory,
They rode expensive wheelbarrows,
So they could waste money,
But not alone, but only with us.
Humorous greetings from February 23, 2022
Steel muscles, a sharp eye
Rimbaud is resting.